Brake Motor & Cooling Tower Motor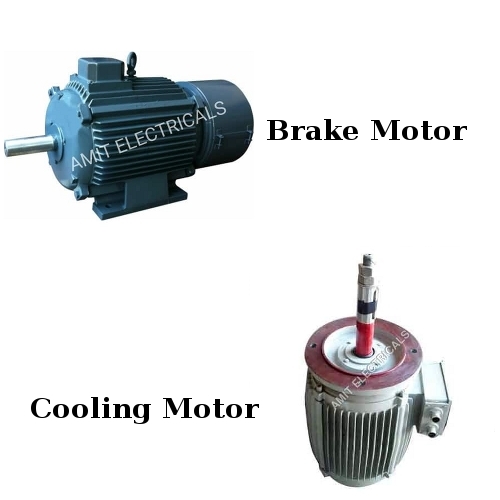 Brake Motor & Cooling Tower Motor
Price And Quantity
Kilowatt/Kilowatts

4999 INR
Product Description
BRAKE MOTOR :
BRAKE TYPE
Fail Safe Brake (When power off shaft lock)
Fail safe brake motor in case of power supply off ensuring further to a precise stop and quick braking action, the security of sudden inter venations in case of an unintentional power supply failure (i.e. power supply black-out, equipment failure)The braking action is obtained without axial sliding of shaft and provides equal braking torque in both directions of rotations. It is Fail safe brake motor.
RANGE OF PRODUCTION
THREE PHASE BRAKE MOTOR
0.25 to 30 Hp. (0.18 to 22 KW) Frame 63 to 180L in 2, 4, 6, 8, 10 & 12 Pole
Mounting Type
Foot (B3)
Flange (B5)
Face (B14)
Cooling Tower Motor :
Range :-
Our cooling tower motor range 0.25 to 20 hp. Frame 71 to 225M.
Motors are flange mounting with IP-55 Degree of protection. Cooling Tower Motor Supply volts 415 5% 3 phase 50 Hz. 3% We are also capable for Manufacturing three phase motor in different volts and frequency Like 220, 380, 460, 525.
Performance :-
Motor performance conforms to IS: 325.
Mounting :-
Mounting V1 shaft downward position Flange B-5 as per IS 2223.
Duty & Insulation :-
Insulation class F with constant duty (s1) Cooling tower motor design for Working S1Duty. For continues working.
- Motor relative humidity up to 90%.
Shaft and Bearing:-
Our cooling tower Motor relative humidity up to 90%.
Cooling tower Motor Shaft is Mead by stainless steel material AISI-410. Nut and washer are made for stainless steel AISI-202. It can make protection against corrosion. Motor shaft extended so cooling fan fitted properly.